Opening Day has finally come and gone, and I should have written this post yesterday. I went to Kansas City with two of my brothers and two of my friends, and it was the Best Day Ever. Here was the view from our seats: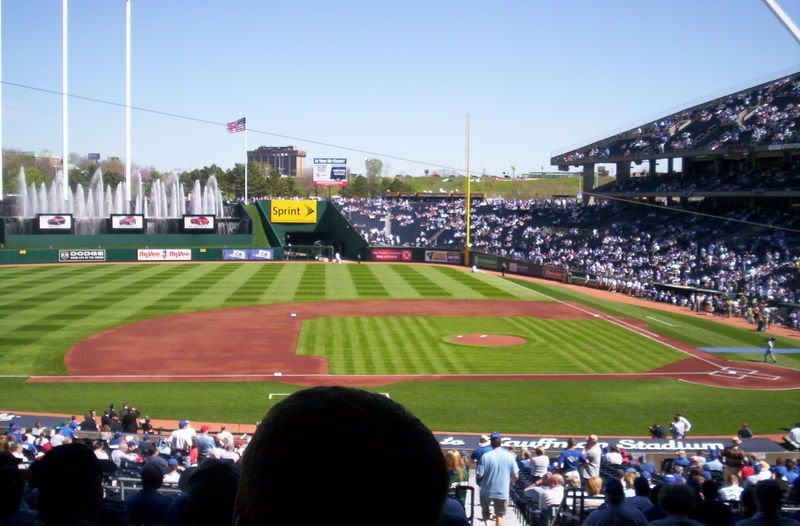 And how can I mention the Royals without mentioning Alex the Great? I really did feel bad for Gordon; his first big league at-bat had to be the scariest situation he's ever been in. (Seriously, I think I'd rather face an armed Randy Johnson in a dark alley than step up for this at-bat.) The bases were loaded, 42,000 were on their feet expecting a blast to the lawn of the FCA building across the interstate, and he's digging in against a future Hall of Famer in Curt Schilling. I would have struck out too. Actually, I would have peed my pants and run back into the dugout in tears. I mentioned in an earlier post that I was concerned that Gordon, even with all his amazing talent, might be in over his head with only a season at AA Wichita under his belt as a professional player. He looks completely fine defensively, but has yet to get a hit (through 6 innings on Wednesday). I will give him time, because I do love him dearly, but I will wait a while to decide if I think he belongs in The Show just yet.
I would have been okay with it if Schilling had thrown a good game; I can understand the impact he's had on the game and can appreciate the fact that he'll be in Cooperstown before I have my degrees. However, it filled me with glee to see the Royals -- MY Royals -- knock him around a bit. What was more giggle-inducing for me was seeing Manny Ramirez and David Ortiz go a combined 1-7 against Royals pitching.
Speaking of, how about that Gil Meche? We spent a bit of time in the parking lot before the game speculating on how he'd throw; whether his performance would justify the $55 million the club sunk into him in the offseason. What a risk that deal was -- he's never been an ace, and we were sinking a significant portion of our modest (but growing) payroll into him and expect him to fill that new role. I was a little nervous as he took the mound in the first, and for the first few batters he did look a little shaky. Then he settled in, and by his departure in the 8th I was convinced he was worth the risk. Tonight before the game, he said he had chills as he walked off the field and was greeted by the most sincere standing O I've seen at the K in quite a while. I had chills too, and I wasn't even the guy getting the ovation!
I had to take a picture of the scoreboard after the game to convince myself that the game had actually happened. Sure enough, the camera doesn't lie: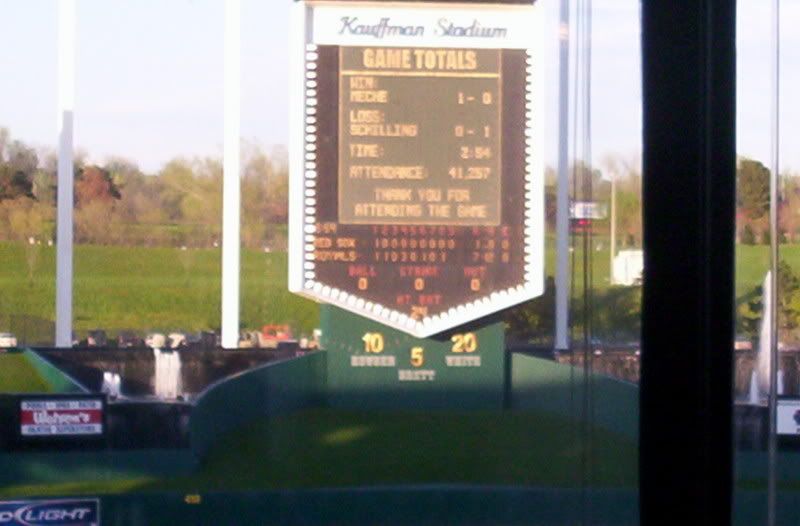 Here's our whole group up in my cousin's booth (by the way, I'm super proud of what my cousin Chris does, and I brag him up frequently). Aren't we handsome?
Boston has a decent-sized lead so far tonight (end of the 7th, it's 6-1 Boston). DeJesus and Gordon are still hitless; that's so hard to watch. On the positive side, Ross Gload continues to contribute a LOT of bat to the lineup. He has 2 hits already tonight.
Now, about tomorrow. I may skip class for this one, as it's easily tomorrow's biggest MLB pitching matchup. One word (well, a word, a hyphen, and a letter): Dice-K. The Royals are sending Zack Greinke to the mound, which is probably the best pitcher KC could throw in such a game (besides ace Meche). Greinke was pretty awesome in Spring Training; he showed all of the awesome command and focus we loved about him, and none of the scary personal unsteadiness that worried us last season. Dice-K has whipped the international media into an absolute frenzy; Japanese journalists have spent all week in Kansas City in large numbers. They're crammed into every corner of the upstairs region of the stadium, and Dice-K hasn't even thrown a pitch yet. I can't imagine how crazy it will be down there tomorrow; I only wish I could be there, but skipping classes once this week to go to a game ought to be enough.
I actually think Greinke has the ability to outpitch Dice-K. To be honest, when he brings his A-game, he can outpitch anybody. The dude's got good stuff, and I think we'll see the best he has to offer tomorrow. Tune in at 1:00 on the Royals Sports Television Network; this is going to be EPIC.