Today was really really awesome. I mean, the kind of awesome that leaves you grinning for hours, for no particular reason. Firstly, I only have one class on Tuesdays, so I didn't have to waste much time being indoors. It was the first warm day we've had a long while (I think we finally passed 70 degrees). And there was a Husker baseball game (another win, which gives us a 10-game winning streak that stretches all the way back to the season's first series). And I got to play catch. And playing said game of catch did not hurt my shoulder nearly as much as I thought it would. And my dining hall had papaya at supper time. And
the Soul of Baseball is now out in paperback
. (Hi, Joe.)
So really, I could scarcely ask for more awesomeness in a day. But now the time has come to sit down and write something, so...well, here. The Big XII men's basketball (presented by Phillips 66) tournament starts in like 35 hours, and here's what I think will happen on Day 1. I am probably going to be totally wrong.
Thursday 11:30 a.m. - Oklahoma State vs. Texas Tech
I'm actually going to call a Cowboy win here. I know Tech is the 8 seed and OSU is #9, but in the first matchup between these two teams this year, OSU won by a handy margin. Later in the year, Tech took the win in a second contest, so I think Okie State might be looking for a little revenge.

Thursday 2:00 - Colorado vs. Baylor
Baylor wins, no question. Colorado is not a team. They are a Roby and a bunch of bodies.
(Then again, my refusal to respect them as a team possibly stems from a deeper hatred of all things CU. But still, Baylor will win this game.)

Thursday 6:00 - Missouri vs. Nebraska
My apologies to Tigers fans, but...well, Nebraska ought to win this game. Last time these two teams met, it was a heartbreaking overtime loss for the Huskers. I mean, it hurt. Doc Sadler has proven to be an excellent button-pusher, and I'm guessing he'll use that last meeting as quite a motivator for the 7th-seeded Huskers.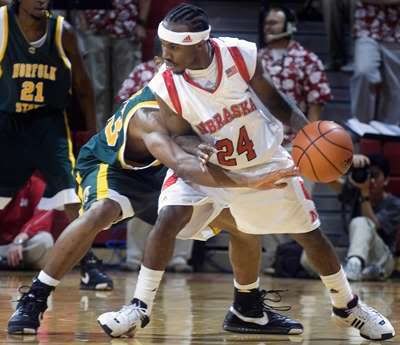 Another reason Nebraska has to be refreshed is the return of playmaker Cookie Miller, who was out for what seemed like ages (but what was really 3 games) with a separated shoulder. He came back against Colorado, but wasn't quite back in form. His hand was all taped up, which affected his ball movement pretty ferociously. If that is all cleared up by Thursday, Tiger fans can expect to see Miller come up with a few sneaky steals, and slide a lot of passes to his teammates where it might look like there aren't any passes open.

Thursday 8:30 - Iowa State vs. Texas A&M
Texas A&M. Again, I don't see any upset brewing here; the seedings are the way they are for a reason.
It worries me a little bit (OK, a lot) that Nebraska is stuck playing Kansas on Friday (assuming they do, indeed, beat Mizzou). By the way, here is the
schedule
of the Big XII Tournament Presented By Phillips 66.