My big problem with Bill James books is that I can't read more than half a page without stopping and scribbling some random ideas, inspired by what I see in the book. Here are some Royals-related numbers, inspired by stuff I found in the Bill James Gold Mine.
Here's the Royals' 2007 record based on number of homers in each game:

A few random observations from this: In April, the team did better with no homers (2-8) than when they hit one (3-10). Also, John Buck seemed to homer a lot in losses. I believe all of his multi-home run games were ultimately losses (but I could be wrong; please correct me if I am!).
Of course, measuring anything home run-related with the Royals is pretty useless, since the team was last in the Majors in homers. Sorry for bringing that up again; I know we're all painfully aware of our team's shortcomings. So here are some things, as listed in the Gold Mine, in which the Royals were
not
last in '07: (Holy crap, blogger is NOT letting me make this as big as I want, so click on the table for the full-sized version)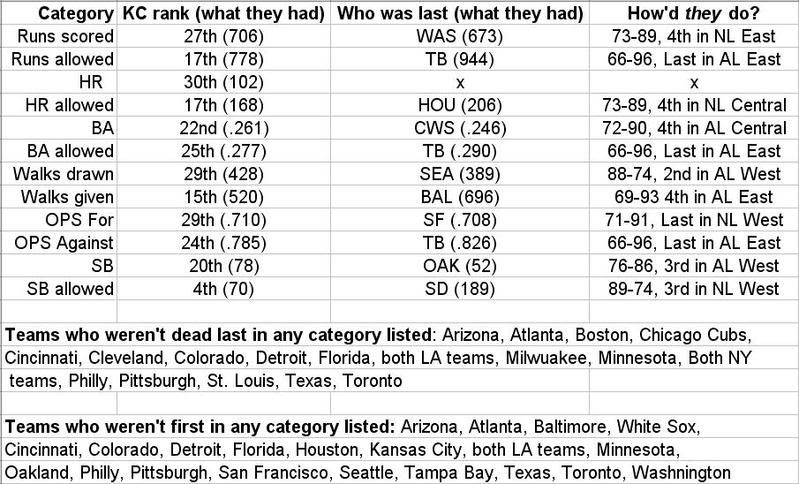 And what good is knowing the worst at various things in the Majors without knowing who was best? (Again, click on the table for full-sized version. Sorry 'bout that!)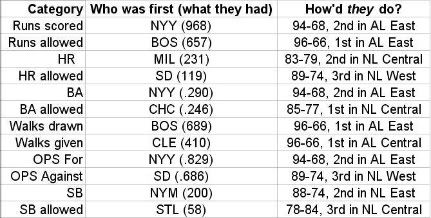 I'm astounded at the difference between first and last place in stolen bases. That's an area where I'm not only hoping; but
expecting
, an enormous improvement for the Royals this season. The team has stolen 21 so far this spring (led by Joey Gathright's 8), and has been caught 7 times.
Now on to some links:
- Rany's series on why now is a great time to be a Royals fan keeps getting better and better:
#9 is Joakim Soria
, or "the Mexican Zack Greinke", and
#8 is the Voice
, Denny Matthews.
-
Barry Bonds is not planning on retiring
. ...ummm, yep. Good luck with that, bud.
-
JoePo gives a (free!) snippet
from
The Soul of Baseball
, in case you haven't bought it yet. (Buy it!)
- Eric Seidman at Statistically Speaking has gone completely insane,
and will liveblog Moneyball tomorrow
. Yes, he's going to read a book, and blog about it chapter-by-chapter. But I heart Seidman, so I will read it.
- Speaking of StatSpeak,
Mike Fast is leaving
the blog.
- In Husker baseball news,
Dan Jennings kicked the crap out of Arkansas
. I know a lot of you aren't Nebraska fans, but you should know that former Husker coach Dave van Horn is now Arkansas' coach, so beating them feels particularly good. Not that I wish ill will on Coach van Horn; he's a great guy and all, but I like being reassured that we have moved on and can survive without him.
-
Here
are two
stories
about the Yankees visiting Virginia Tech for an exhibition game. I'm not a Yankees fan by any stretch, but I like this. Baseball does heal; even if those VT students will never feel normal or safe at school again, maybe they can scoot an inch closer to some kind of comfort, knowing the superstar Yankees feel for them and were moved enough by their tragedy to visit the way they did.
If you're here from
RoyalBoard
,
Royals Nation
,
Royally Speaking
,
Royals On Radio, Etc.
, or anyone else who has graciously linked to me in the last two days...welcome! I hope you stick around. Check out the
featured posts
, or just hang out and help yourself to the Dr Pepper in the fridge.
Suddenly it is 2:30, so I should be off to bed.