I just spent a week in lovely Grapevine, Texas for the
FOCUS
national conference
. It was overwhelmingly awesome, and now that I'm home, I am overwhelmed by the task of catching up on the stuff I missed while I was gone. The Royals made a
couple
of
moves
,
JoePo
wrote approximately 7 million words (including the
results of the Pozcars
!), the
Ladies...
covered all the bowls of the week in a way that only they could, some great conversations about the Royals' future were opened up over at
Royals Authority
, and I gained some major ground (and possibly even first place) in my bowl pool, based on my
arbitrary picks
and as-stupid-as-I-could-muster reasons.
Well, that's the stuff that happened that had nothing to do with me.
For my part, I survived an outlandishly long bus ride to Dallas to start my 2008. You should know that buses and I...we're not friends. But I made it, so 10 points for me! The conference was held at the Gaylord Texan, which was completely wonderful despite having really tacky carpet everywhere:
I think the goal of the Gaylord Texan is to see how many Texas cliches they could cram into one resort. It seems kind of silly to me. I mean, Nebraskan hotels don't have carpet with ears of corn all over it, right?
Part of the carpet in the ballroom featured larger versions of the motifs in the hallway design. Those giant boots, hats, and belt buckles were a crazy-awful distraction during daily Mass.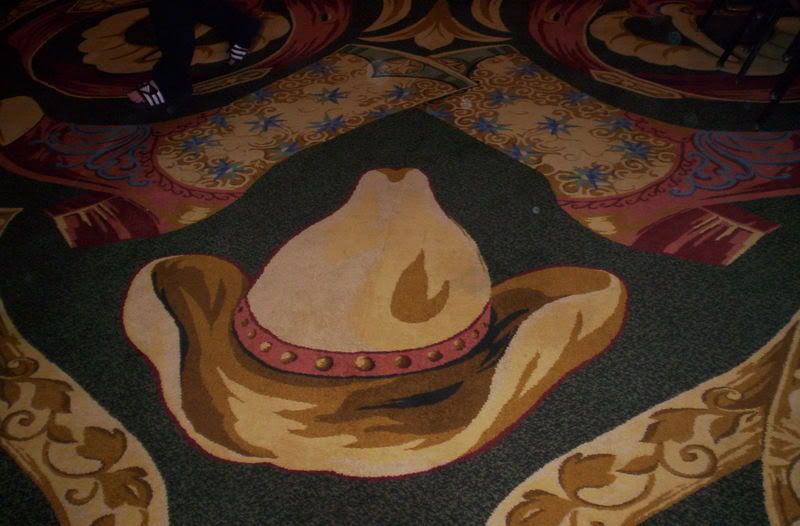 This being a Catholic conference, there were tons of nuns (Say that a few times out loud, it's fun:
Tons of nuns! Tons of nuns!
), priests, brothers, deacons, and even bishops everywhere. Some regular hotel guests (ones not associated with the conference) were quite confused by this; people overheard some fun observations like, "There's some nun convention going on here," and "What in the name of hell
is
this??"
We had a lot of dynamic, hilarious, intelligent, moving speakers address us throughout the week. They talked about everything from birth control to spreading the gospel on our campuses; from baseball to navigating the Bible. My favorites were
Mike Sweeney
(of course) and
Fr. Benedict Groeschel
. Sweeney kindly took a few minutes to see how I've been doing since we met up in August, because he's that awesome.(
Pictured are me, Sweeney, and my good friend Becky.
)
On Sunday night while we were stopped for a needlessly long dinner break in Oklahoma City, I called my dad to check up on football scores, and to pass the time before all 200+ people in my traveling party got their darn food and boarded the buses. I was planning on telling Dad how amazing it had been to be at Mass that morning, because there were
four
bishops there, and I felt very privileged that they had given us their time. But before I could say that, Dad told me that
my brother
, who is traveling around Italy, had gone to the Mass given by the Pope that day. I think he wins, but I at least got a picture taken with a cardboard cutout of His Holiness.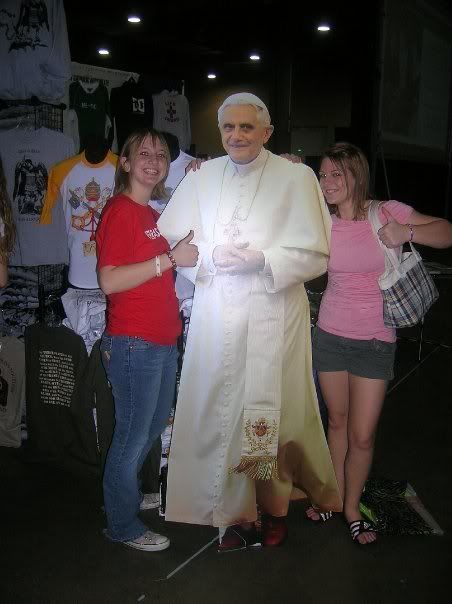 Now I'm back at the home of my parents, and I brought back some souvenirs from Texas, like some t-shirts, books, and a sinus infection. Their furnace has gone out, so my fingers are getting a little bit too cold to type any more (lucky you!). That means I have no choice but to snuggle up under like 20 blankets, make a giant mug of hot chocolate, let my dogs curl up at my feet, and watch some movies, right? My, my; what a hard life I lead...
I've got some ideas brewing that were inspired by the Bill James Handbook (which I finally own, hooray!). Those ideas should magically turn into a post or two in the coming week, along with some Nebraska basketball stuff, as the 11-2 team gears up to open conference play against #3 Kansas (gasp!) this weekend.