I'm no expert analyst, nor am I a Division I coach of any sort, but I can tell you one way to NOT win an overtime game:
Don't score in the first four minutes of overtime.
Ouch, Nebraska. I mean, really.
Here's an excerpt from the Huskers.com
article
about the game:
Despite a 10-of-18 shooting performance, Maric attempted just one shot in overtime as he couldn't connect on a tip try following a missed free throw.
And here's what that tip attempt actually looked like: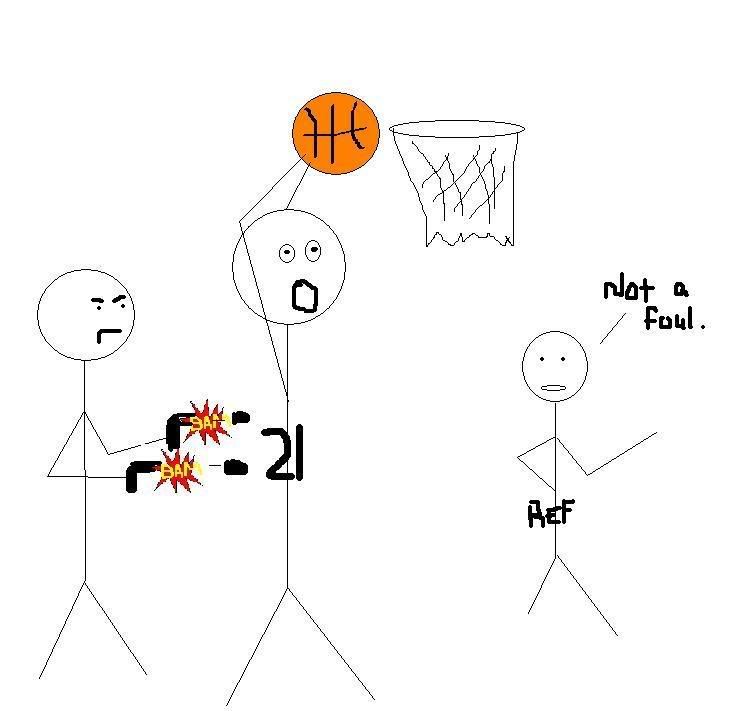 It was a weird game, officiating-wise. In the first half, Nebraska only got to the line for two free throws, but got 27 FT attempts in the 2nd half, and 4 in OT. How in the heck does one team get 27 free throws in 20 minutes of basketball? Anyway, the refereeing was questionable in all areas. At one end of the court, a player could breathe in the general direction of his opponent, and a foul would be called. Then at the other end, a player could punch (bar-fight style, because Missouri was involved) his opponent, put him in a half-nelson, depants him, and say insulting things about his mother...and it wouldn't be a foul. Note that I didn't specify which team was getting things called unfairly, because it sucked both ways at various times in the game. I don't ask for perfection from officials, because I know they have a hard job. I only ask consistency, so that the players and not the refs can decide the outcome of the game. Last night was not consistent officiating. Fans of both teams have a right to hate on the refs from last night.
To me, the turning point in the game was the ridiculous run Missouri went on to close out the first half. In those moments, the Tigers did everything right, and the Huskers had no answer for any of it. It started when Paul Velander came off the bench to try and supply some quick points from beyond the arc. He popped one shot, but it missed, and Missouri took the rebound and responded with a three. Next possession: Velander gets the ball early in the possession and finds himself surrounded by Tigers. There's tons of time left on the shot clock, and someone had to have been open since he was being double-teamed, but he forced an awkward, off-balance shot anyway. It missed too, and Mizzou again responded with points of their own. So it went for the rest of the half, and suddenly Nebraska was the lesser team on the court, the one that looked like it would run out of gas. Missouri took an 11-point lead to the locker room at the half, coming off the strength of that ridiculous 20-2 run.
Nebraska was thrilling in the 2nd half. Aleks Maric played like a true star for one of the first times all season, finishing the game with 32 points and 16 boards. He commanded the 2nd half, with the exception of one dumb no-look hook.
(Yes, I'm still on his case about that. Those shots NEVER work, so until they go away, I'll be watching.)
Steve Harley nailed two free throws to tie it all up with just over 5 seconds left. Missouri failed to score on the ensuing possession, and then...overtime.
I'm not sure what happened in the huddle after regulation ended. I think the Huskers forgot how they had been playing all night. They looked sloppy and a little bit lost for those first 4 minutes of the 5-minute frame, while Missouri kept doing their thing.
Final:
Missouri - 86
Nebraska - 78