A famous and beloved inscription above Gate 21 at Lincoln's Memorial Stadium reads, "Through these gates pass the greatest fans in college football."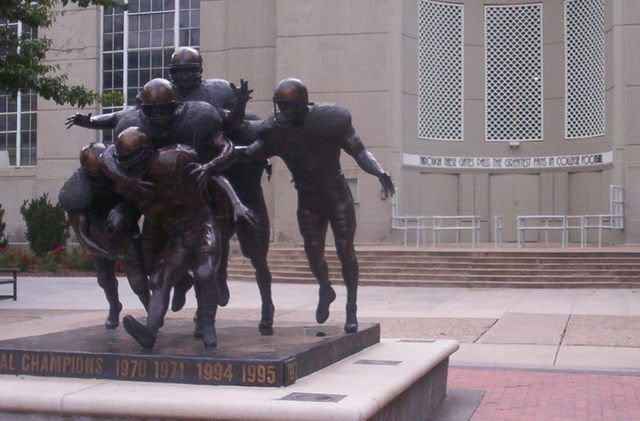 But partway through Nebraska's
brutal loss
to Oklahoma State on Saturday, I felt rather disappointed in Husker fans, maybe even more so than I am with the team for their awful performances in the last two games. The way the stadium full of so-called "fans" behaved on Saturday makes me wonder if Husker football fans of the last few years have actually been bandwagoners all along.
Before every game, many fans are given red balloons to let go of when Nebraska scores its first points. On Saturday, the Huskers took quite a while to get on the board, and a lot of folks gave up on those balloons, resigning themselves to release them after a rare 1st down instead. Would one of the "greatest fans in college football" show that much doubt that their team could score? What about leaving the game
before it was even halfway over
, or booing their defense?
It's disgusting. Yes, it is hard for me to watch Nebraska do so badly. I grew to become a football fan after watching the Huskers of the mid-90s dominate everyone they played. It was safe for me -- and all Husker fans -- to demand and expect excellence.
Always
. Today, the team doesn't quite live up to the standards of excellence we once pinned on them, but I still proudly call myself a Nebraska fan. I will never leave a game early; I have never believed in doing that, and I never will. I will never boo my own team, no matter how poorly they are performing. Booing is for only the most contemptible of figures (the ref who blew two big calls, the other team, and so on) and the team of which I call myself a fan shouldn't fall into that category.
Do I think Nebraska should have played better yesterday, and last weekend against Missouri? Of course I do. But I will not abandon them, not in this season or any other. I will not do anything to jeopardize the status of our mighty Sea of Red as "The Greatest Fans in College Football."
What I will do is make nifty signs to poke fun at
the other team's coach
.