A heck of a ballgame
happened in Omaha today. John Bale made his second relief appearance at the AAA level; he threw an inning yesterday and an inning today. He needed exactly 20 pitches, which I believe was his limit anyway, to get through his inning.
After Bale came out, the recently acquired
Jose Capellan
took the mound to relieve him. I hadn't seen Capellan pitch before today, but I am
impressed
. I was told that his fastball used to touch 100 mph, but he has dialed it down in order to gain some control. Today he absolutely had control, throwing only 95 pitches through 8 innings and fanning 7 Round Rock players along the way. He walked only one batter.
Capellan's best pitch has always been his fastball, but I saw him throw some pretty nasty sliders in the 8th and 9th innings*. He kept up a quick tempo throughout the whole game, and I'm certain that if Bale had not been in the picture today, Cap would have thrown a beauty of a complete game. But I can settle for a mere eight innings of shutout ball, an outing in which only one Round Rock baserunner even got to 2nd base.
*Those were the only innings I got to watch closely; before that I had been running all over the stadium trying to catch up on things I had missed because I managed to oversleep this morning. But my duties ended after the stretch today, so I relished the opportunity to watch like a regular fan in a great seat directly behind the plate.
On the other side of the ball, Round Rock starter
Chad Reineke
only allowed four Royals to get to scoring position in his 8 innings. He struck out 8 and walked 3. Can you tell this was a short game? Dang - 2 hours and 17 minutes. Anyway, this definitely qualified as a pitcher's duel and I decided it was the best game I had watched all season.
And that was before the bottom of the 9th.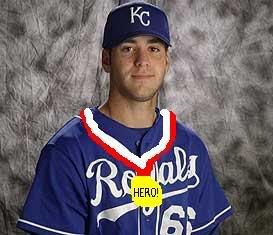 Reineke had given way to reliever Fernando Nieve, who got Gookie Dawkins to strike out looking, which then brought up Mike Stodolka. Stodolka has finally been getting regular playing time this month and has been on base pretty steadily in his last 10 games. However, none of his hits in that span have been for extra bases - until today when he connected with Nieve's first pitch and blasted it into the right field bleachers for a 1-0 Omaha win.